Fall FTX – Oct 5th & 6th – Forms and Info
All 197 Cadets,
Our Fall FTX (Field Training Exercise) is Oct 5th and 6th at Rockwood Conservation Area. This is a Mandatory event for all cadets.
You will need to be at the gate to Rockwood Conservation no later than 08:30 (8:30am) Saturday morning. Our FTX goes overnight and cadets will be at the main gate at 16:00 hrs (4:00pm) on Sunday for pickup by their parents.
An advance party of cadets will arrive Friday Oct 4th in the evening to help setup, a separate warning order will be issued to those cadets in the advance party.
Please download and read the following forms, and have your signed consent form with you for our next Tuesday evenings' training: Tuesday October 1st. Review the kit list, you must bring all the items on the list.
Download Documents:
Map to Rockwood Conservation:
2019 Air Cadet – Recruiting Night and Open House
Free to join and open to all young men and women ages 12 to 18 (Canadian Citizens and Landed Immigrants)
Come and see what Air Cadets is all about. Meet our staff and cadets and see if Air Cadets is right for you. This is an excellent opportunity for Canadian youth to join an organization which prides itself on excellence and which is committed to bringing out the best in our young men and women.
Learn to fly, go gliding, learn about aviation, meet new friends, go camping, fly model rockets, build up your confidence, learn to speak in front of others, learn how to be a leader. compete against other squadrons… the list goes on and on, you will experience a wide variety of interesting and fun things as a member of the cadets.
197 Air Cadets serves Acton, Rockwood and the surrounding area. General meetings are Tuesday evenings from 6:30pm to 9:15pm.
2019-2020 Air Cadet Training Year – Initial Schedule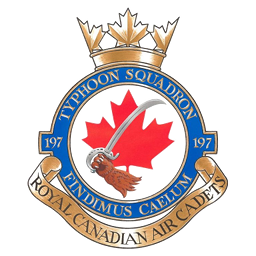 Welcome Cadets to our 2019-2020 Training year. Here is a initial calendar which provides detail from the end of August to early October. Please review it. You will find some more detail on each event in the calendar on the 197 Air Cadet website.
Aug 27 – Staff Meeting
Sept 3 – First Training Night / Returning Cadet Night
The first training night of the 2019-2020 Air Cadet training schedule. This will include the "Returning Cadet Night" for reviewing and filling in the cadet paperwork for the new training year.
Sept 5 – Flight Scholarship Starts
Sept 7/8 – Senior Development Weekend – Level 4 and Level 5's. – Georgetown Armouries
Joint squadron development weekend with 242 and 756 Squadrons.
Sept 8 – Sunnybrook Hospital Visit with the Veterans
Sept 10 – Recruiting Night – Open House
Sept 21 – Orienteering Day – Mandatory
Sep 29 – Orienteering Competition – Albion Hills
Sep 29 – Gliding Mandatory
Oct 4 – Fall FTX – Advance Party
Oct 5/6 – Fall FTX – Mandatory
35th Annual Ceremonial Review – Response Required
It is once again that time of year when we will be hosting our 35th Annual Ceremonial Review.
It will be on Sunday June 9th 2019 at the Royal Canadian Legion. Seating at 1:30pm and the ceremony will start at 2:00pm.
If you could please contact Carol Bee, Chair of the Squadron Sponsoring Committee by replying to the email she sent to all cadets/parents of cadets, or come and see Mrs Bee at Cadets on a Tuesday evening with how many people will be attending, and whether or not you are able to bring a dessert it would be appreciated. Please include your cadet's name in your reply. Please reply no later than May 30 2019.
Thank You. Carol Bee. SSC.
Important Notice: All Level 3 and Level 4 Cadets – April 2019
April is a busy month especially for our level 3s and 4s, both levels have Performance Checks (PC) coming up and remember in order to pass your level and in some cases be promoted you must pass these tests:
Level 3
PC303 – All level 3's
Leadership (assignments) – You will have meetings with your assessors over the month to complete this process, remember to do your self-assessments. If you have questions speak to me Tuesday night. These must be completed and back to me NLT April 30th.
PC308 – All level 3's
Drill – You will be working with WO2 Pumphrey and FSgt Kulenthiran over the next couple of weeks to prepare for your PC on April 30th.
PC309 – Those Cadets that have not done it yet
Instructional Techniques (Teaching) – Blackbird/Blackwood/Toth/Weil please be prepared to teach on April 16th.
PC 390 – All Level 3's
Air Crew Survival – We will do this one on the FTX May 25-26th
Level 4
PC403 – All Level 4's
Leadership (Appointments and Assignments) – You will meet with your assessors over the month to go over your 403 assessments and these will be handed in to me NLT May 7th.
PC408 – All Level 4's
Drill – I will be scheduling in time over the next few weeks to go over this Performance Check it seems that some parts were missed, I will advise all of you.
PC409 – Individual Cadets
Instructional Techniques (Teaching) – Kolozsvari and Labonte you will have an opportunity to do your classes again on: April 16th.
PC 431/432/436/437 – All level 4's
Principles of Flight/Aero Engine Systems/Meteorology/Air Navigation – There will be a review night on April 16th and the PC will be written on April 30th.
PC 490 – All Level 4's
Air Crew Survival – We will do this one on our FTX May 25/26th.
Please mark these dates, prepare for the test and you must be at Cadets on these nights!
Good Luck to all our Cadets writing PC's this month!!
Capt B Dobbs
Training Officer
197 Typhoon Squadron